An Archetypal CMS for Everybody!
Indexhibit was a big part of the past ten years of my life. I never thought anybody would use it much. If you look around enough it's pretty clear that both the CMS and the format were influential.
It began in 2005 with an email to Daniel Eatock. He had been promoting an archetypal format for displaying works on the web but the technology was already out-of-date. I proposed that we build a proper content management system and allow the idea to transform. I did and I was really busy, far far busier that I ever imagined, for some time.
Alot of people used it. Rock stars. Prize winning writers. Critically acclaimed artists. Amazing designers. So many students. I've met people all over the world using it or having friends using it. Indexhibit was always a very intimate project for me though. It still chuffs me up when I realize that I made that.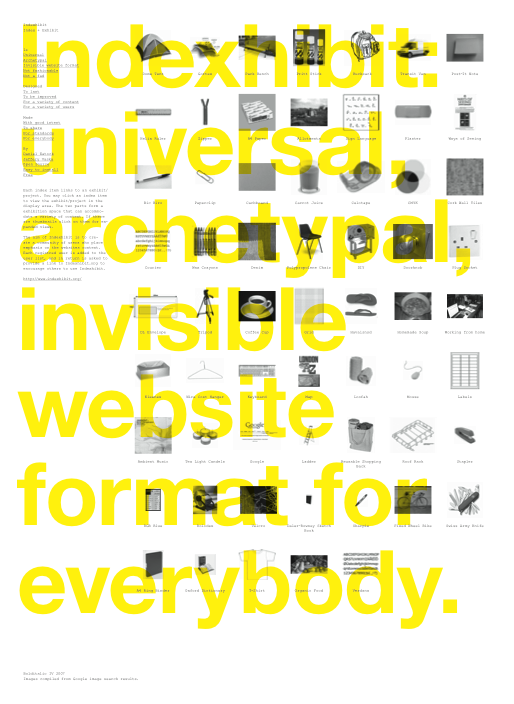 Dan and I shared alot of common influences that seemed to spark so much conversation and alot of ideas. Punk rock, making bread, invitations (in the arts), DIY, design systems, honesty, all kinds of art. Sometimes I wondered if that was the real project - but now I realize that was just the fun part of those years. The rest was alot of work in the face of the changing internet.
It's much different today that it was ten years ago, right?
Today when I think about the project I immediately start thinking about those differences. Maybe this is now the real work? Haha...I'm not sure if I'm kidding. Simple things like people not knowing how to use FTP or wanting to upload 30 megabyte images to their web application. Or, how "walled gardens" are becoming more dominant. Money, dominating this democratic (or so we thought) new technology.
Indexhibit meant a few things at the beginning - one of which was independence. Independent publishing. Independent thinking. And now, after all these years, I'm back after a hiatus and I can honestly say "fuck it" again and I'm just going to focus on the independent part of things both for myself and for Indexhibit. I also feel like the internet really needs to remember where it came from and how it originally evolved.
I'll post the occasional theme or plugin to the experiments section. All I can wish is to find like-minded people and hopefully make some useful things. Let's see if Indexhibit can be fun for the next ten years.
* We created that poster for the 2008 Bold Italic Design Conference in Gent, Belgium.